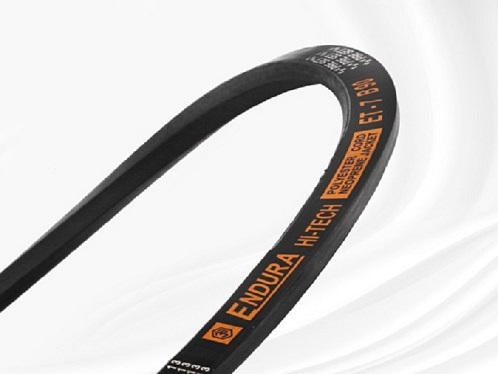 Hexagonal Belts
Endura Hi-Tech 'HEXA' V belts are ideally suited for serpentine drives where power needs to be transmitted equally from both sides of the belt. Centrally located cord and special synthetic rubber compounds ensure long V belt life and smooth, capable horsepower capacity
Features:
• Dual-sided classical profile.
• High-strength tensile members.
• Engineered rubber compound-impregnated envelope.
• Engineered rubber cushion and insulation.
• Oil, heat, ozone, and abrasion resistant.
• Precise control on construction.
Market's Applications: : Used on drives having one or more reverse bends and usually where power must be transmitted to or from the belt in both usual and reverse positions like Lawn and Garden Equipment, Mixers, Agitators, Conveyors, Crushers.
Length Designation: Le (effective length in mm)
Dimensions, Range and standards: The length of Double V-belts is considered as the effective length. Available as per IS 11038 and ISO 5289, IP21 For range and standards, please refer table no.-