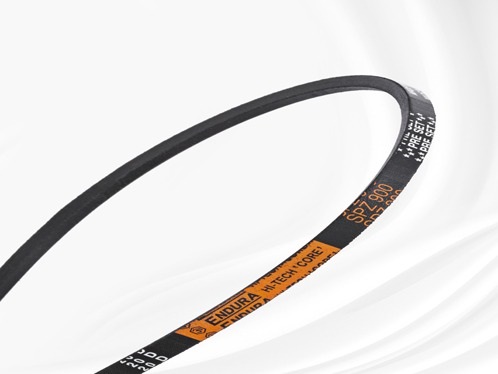 Raw Edge Narrow V Belts
Endura Hi-Tech 'FLEX' Narrow V belts are designed for compact, high horse power drives, high shock loading on short centres and small diametres.
Features:
• Higher horse power rating than conventional belts.
• Greater design flexibility, Excellent durability.
• Specially designed cords enhance durability and length stability.
• Excellent in resistance against heat, oil and wear.
• Energy efficient, High power transmission efficiency.
• Compact and efficient operation so Can be used on small pulleys.
| Construction | Functions | Materials |
| --- | --- | --- |
| Top fabric | Protects internal tension member. | Cotton / Synthetic Fabric. |
| Tension member | Primary material for transferring power. | Polyester, Aramid. |
| Adhesive Rubber | Absorbs shock and prevent cracking in compression rubber. | CR |
| Compression Rubber | Maintains sectional shape by side pressure. | Fibre Loaded CR |
Market's Applications: Suitable for all industrial applications, particularly where space, weight and horsepower capacity are critical
Length Designation: : La (outside length in inches) Belt Number /10 = outside length in inches
Dimensions, Range and standards: Available in 3VX, 5VX, 8VX sections.