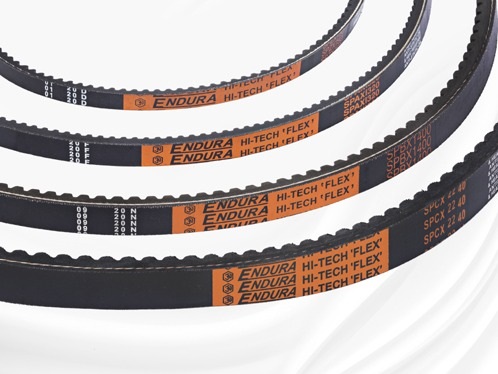 Raw Edge Cogged V Belts
Made of high strength, flexible tension members and heat-resistant rubber compounds, these automotive belts are designed for high-speed and high-temperature conditions in speicially designed shapes.
Features:
• Highly flexible and thus suitable for conditions requiring high flexibility and a small pulley diameter.
• Assures uniform performance over the entire belt length for the entire belt life.
• Resistant to heat, oil and abrasion.
• Vibration free.
| Construction | Functions | Materials |
| --- | --- | --- |
| Top fabric | Protects internal tension member. | Cotton / Synthetic Fabric. |
| Tension member | Primary material for transferring power. | Polyester, Aramid. |
| Adhesive Rubber | Absorbs shock and prevent cracking in compression rubber. | CR |
| Compression Rubber | Maintains sectional shape by side pressure. | Fibre Loaded CR |
Market's Applications: Endura Hi-Tech 'COG' cogged belts are specially designed according to the needs of the automotive machinery. These belts are best suited for power steering pump, A/C compressor, water pump etc.
Length Designation: Li (inside length in mm)
Dimensions, Range and standards: Available in AX, BX and CX sections. For range and standards, please refer to table no-