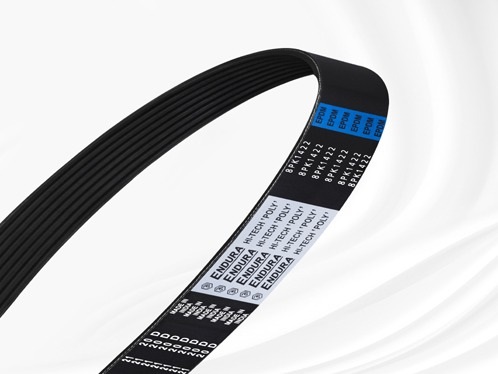 Poly Ribbed Poly Belts
V-ribbed belts have wide top width and thin thickness, it provides consistent tension while driving by connecting in the each rib. It is also called Micro V-belts. Endura Hi-Tech 'POLY' belts are suited for high speed and high power transmission drives.
Features:
• The wide width and thin height provide the excellent flexibility.
• High power transmission under operational conditions of highspeed rotation, reverse bending and a small diameter pulley.
• Maintains consistent tension during operation for cords of high modulus and low shrinkage.
• Excellent in resistance against heat, oil and wear
• Enhances power transmission efficiency by reducing slip during operation.
| Construction | Functions | Materials |
| --- | --- | --- |
| Covering fabric | Oil, ozone and abrasion resistant fabric for long trouble free operation | Cotton / Synthetic Fabric |
| Cushion rubber | Strong adherence to the tension member and keeps it at correct position | CR |
| Tensile cord | Compose of special cord with Tensile strength and low elongation | Polyester |
| Compression rubber | Fiber reinforced, truncated rib profile for higher load-carrying capacity and better wear resistance. | CR, EPDM |
Market's Applications: It can be used in various applications like house hold electrical appliances, different machine tools, work tools, industrial machines etc.
Length Designation: Le (effective length in mm)
Dimensions, Range and standards: For dimensions and range, please refer given below table